Max Jury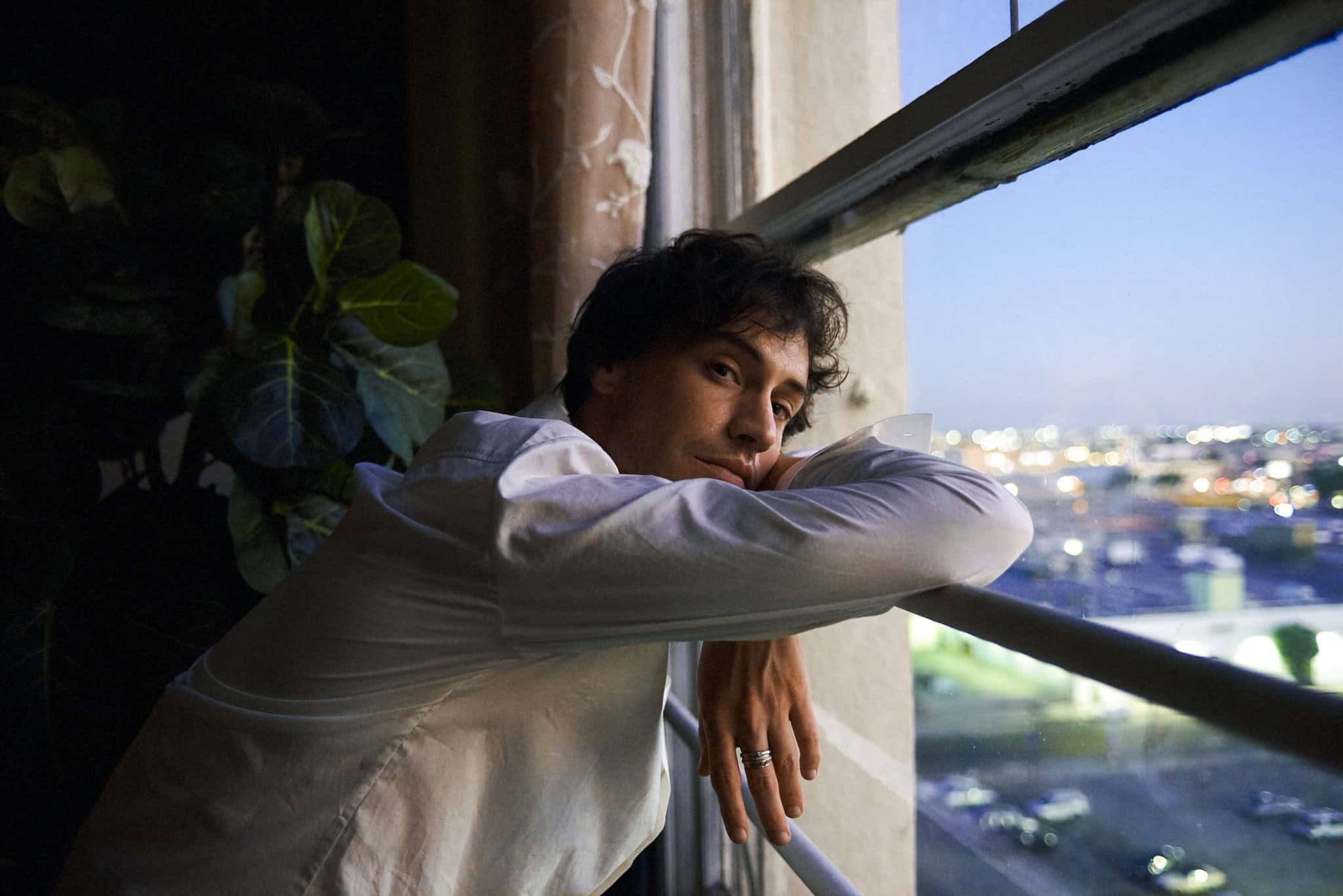 Max Jury has been travelling without moving, exploring without leaving, getting ahead without getting out. And now, with his glorious third album, he's taking us all with him, on a country-soul odyssey into the canyons of his mind.
The American singer-songwriter is taking us down Avenues.
By nature, the Des Moines, Iowa native is an itinerant musician, a peripatetic artist, a footloose songwriter, a troubadour in the classic sense. Someone who's always followed the music. Ahead of his self-titled 2016 debut, he had lit out for London, aged only 18, to tap into the early buzz around the demos he'd made while studying in Boston. For his second album, 2019's Modern World, he decamped to Los Angeles to work with the Grammy-adjacent producing talent who could help realise the musical metropolis in his mind.
But like the rest of us these past two years, the singer-songwriter has had no option but to largely curb his wanderlust and kick his heels.
So, in the first year of the pandemic, he hunkered down and bunkered down in Chapel Hill, North Carolina. Jury worked out of a studio run by an old friend next to his old friend's parents' house – with, mainly, just that old friend, Stacy Harden, for company.
Self-producing and self-engineering with Harden, he played guitars, keyboards "and whatever synth stuff is going on". Harden is on drums and bass. All that energy of the road? That wanderlust and romance and longing? The hunger to perform live? It had to go somewhere. That somewhere, brilliantly, is the heart of the brace of new songs he's written.
"One hundred per cent it's been great just to focus on the new songs," agrees Jury. Where his singing voice is hushed, bewitching and in-your-ear, his speaking style is wide-eyed and passionate. "Perversely, this whole time has been useful: it's given me time to sit tight and focus. When you're always in motion and always chasing whatever the label wants you to do, or whatever goals you have, it's hard to have time to actually stop, and learn, and grow, and get better. Which I really wanted to do."
"I'm shooting for a cinematic quality with my songs. I don't mean in an epic quality, but I write through movies, images and trying to capture a moment in time. I'm less concerned with being literal all the time – although I'm not saying I'm some abstract, crazy, Dylan-like lyric writer. But I am more concerned about painting a picture."
So, true to form, Max Jury started travelling once more. Destination, again, London. Connecting with another new collaborator, Dan Rothman of London Grammar – they met after sharing mutual appreciation on Instagram – he found he had even more songs to get out. Even more journeys to share.
"I really respect London Grammar's music. I think there is something special in their ability to sound both timeless and new. And I was obsessed with the title track on the most recent record. It had a Massive Attack meets Americana vibe – damn – they beat me to it! And Dan and I got on like a house on fire. We probably spent more time talking about menswear and sneakers than actually recording. He really elevated the record and inspired me. Can't say enough nice things."
Working, too, with Jimmy Hogarth, the Grammy-winning, London- and Dorset-based writer/producer (Amy Winehouse, Suzanne Vega, Paolo Nuttini), he sought to colour out the vision he and Harden had sketched in North Carolina.
Proof? First single 'Is This Love?', a duet with Delilah Montagu that finds entwined, whispered magic in quiet-is-the-new-loud restraint.
"Delilah and I wrote it together in London last summer," explains Jury. "We recorded it with just a couple acoustic guitars, us playing and singing – more of a Kings of Convenience vibe. I love her voice, she's got a soft kind of power, and our vocals just blend really well together. Then I brought it to Dan, and we finished it in London. We recorded the band live, and then Jimmy did quite a bit of mixing trickery."
More proof? Likely second single, 'Peace of Mind', a tripped-out blast of folk-rock freakery: written with his girlfriend in North Carolina, scuzzed up in the studio in London with Rothman, and tricked out by contributions from "this crazy drummer named Slim who showed up in tight black jeans, chic boots and a cut-off T-shirt – he's like Animal from The Muppets! Then he hired a bass player, an old friend from Brighton who's had punkish. vibe. So the band was definitely different than then what I'm used to playing with! And we just let them basically go crazy on it."
Still only 30, Jury has already put in the miles to get here. After finishing college in Boston, he signed with Marathon Artists in the UK. He moved to London in 2015, released the Max Jury album the following year and toured for the first time with a band.
Their opening show was supporting Lana Del Rey in Chicago, with the audience perhaps wrong-footed by Jury "playing a lot of country music then – we started with a Lefty Frizzell cover, 'Always Late with Your Kisses.'" Nonetheless, "Lana was really nice to me, and I ended up supporting her on more tours. I'm an introverted person so at the time playing live wasn't something I was super-excited about. But I thought I needed to get over that – and having to play for 2000 people will do that."
While in the UK he also played a run of shows with Rufus Wainwright (another artist more lauded in the UK than the US). It was all part of his immersion in a UK music scene and culture that felt like a second home.
"I definitely have followed the music, wherever it's been, in my life and my music. Growing up in Des Moines, the information I was receiving in terms of new bands was maybe limited. I heard my parents' stuff, which was old soul and old country, your James Taylors and your Bob Dylans. But I wanted to be part of different music scenes and opportunities.
"And London did that for me," he continues. "It opened me up to how much I needed to learn, and could learn. I worked with a bunch of different songwriters, and it sharpened my abilities – and maybe in some subconscious way, made me have more of a British sensibility."
Still, as a lifelong basketball fan he was frustrated by Brits' continued inability to understand, far less play, the game. "I played with some British friends and they were terrible. I was like, what's going on! But I did find some Americans I could get a decent game with," he laughs.
After London, he shipped out to LA to make Modern World, then moved to Paris for six months, "because my first album did well there, so… why not?" he smiles.
A similar sense of adventure informed Jury's 2021 return to London as soon as pandemic-era US-UK travel restrictions eased. Songs he'd recorded in Chapel Hill during lockdown, he thinks, benefited immediately from his new environment and collaborators as he and Rothman worked in Livingston Studios and Paul Epworth's The Church
Case in point: he re-recorded the lilting, plangent 'Avenues', stripping back the album title track and recording a new vocal performance.
"I just thought it was a bit embellished, and I wanted it simpler. All the fluff in the production was getting in the way of the heart of the songwriting. Also my friend had bought a classical nylon guitar, so I added some of that to give it a little more of that flavour."
The song's lyrics also took on even greater resonance.
"The album is introspective and reflective, of course, but it's about endings and beginnings and starting over, and change, and moving on. Those are the central themes to me. 'Avenues' ticks those boxes in terms of the emotion of it."
Like 'Is This Love?', 'Happiness To Myself' is another product of the UK sessions. A masterpiece of production, a lovely piano motif is embellished by a symphony of percussion, bleeps, bloops and drum-machine beats, as Jury's plangent floats above on a cloud.
"Me and Jimmy wrote it last summer, in his new place in Dorset. I definitely was trying to do that Elliott Smith-meets-bossa nova thing. The production is definitely more contemporary on that song. One of the references was N.E.R.D. and their sci-fi pop, and it's a little like hip hop-ish in the way the drums work. We just wanted to have fun with it and turn it into more of a party, with some Jimmy Hogarth synth trickery."
Equally, other songs Jury left mostly as they were when he recorded them in North Carolina, notably 'Is There A Light?' – a symphonic wonder that starts off hymnal, ends up like The Zombies.
"It did get remixed and some things got a little pared back," he allows. "But the string arrangement is the same. This guy Patrick Riley from Des Moines, he's in the symphony there. He writes and records his own string arrangements – he's got this apartment with loft ceilings and places the mic so it sounds roomy. When we first started this record, he was charging me $200 a song to do a string arrangement. And they're these ornate, beautiful things that are as good as anything I've heard. And I'm like, alright, well, he's not going to be this cheap for long. Then he did something for Shawn Mendes. Good for him!"
'Feel Free', written with what he hopes is "a Nick Drake feel", was also largely untouched during the London sessions.
"This song was definitely a pandemic baby, me, in my apartment, locked away, whittling away at the song. Sometimes as a songwriter you can really force things – you have a session in a day and you feel you have to get it all done. But with 'Feel Free', I didn't want any line that I wrote lyrically to feel out of place or forced.
"Some of these songs read as love or relationship songs, and some of them are," he continues. "But some of them are about my relationship with music itself – so 'Feel Free' is about just the creative process."
That freedom is all over, and through Avenues. It's the sound of Max Jury going away to come home. The road to the release date is still a few months long. But for now, settle down and lean into the yearning, restless, reassuring and wholly wonderful sounds of the first tastes of his third album, from a musician who's still roaming far by digging deep. It just might be the best trip you take this year.
New album 'Avenues' is out March 31st, 2023