EDDIE VEDDER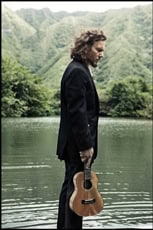 Eddie Vedder First European Solo Tour
Eddie Vedder Announces First Ever European Solo Performances
Plays HMV Hammersmith Apollo July 30th & 31st
Manchester's O2 Apollo July 28th
Eddie Vedder will bring his acclaimed solo show to Europe for the first time this summer, including three eagerly anticipated UK shows.
It all kicks off at Amsterdam's Carre Theatre on July 25th and wraps up at Sudoeste Festival in Zambujeira do Mar, Portugal on August 3rd, taking in dates at Manchester's O2 Apollo on July 28th and HMV Hammersmith Apollo on July 30th & July 31st.
Tickets are on sale now from http://www.ticketmaster.co.uk and are priced at £45 and £50.
Eddie Vedder plays:
July
Sat       28th        MANCHESTER, O2 Apollo
Mon    30th        LONDON, HMV Hammersmith Apollo
Tue   31st        LONDON, HMV Hammersmith Apollo
Eddie Vedder's European dates are in support of his 2011 solo album, 'Ukulele Songs'. Recently nominated for the Best Folk Album Grammy Award, 'Ukulele Songs' is a collection of original songs and covers performed by Vedder on ukulele.
Also released in May 2011 was Water on the Road, a live-concert DVD directed by Brendan Canty of Fugazi and Christoph Green featuring performances from Vedder's August 16th and 17th 2008 solo tour engagements at Washington, D.C.'s Warner Theatre.
Eddie Vedder Solo
The critically celebrated soundtrack for the motion picture Into The Wild (2007) marked Eddie Vedder's first full release as a solo artist. The album earned Vedder a Golden Globe Award for song 'Guaranteed' as well as a Golden Globe nomination for his contributions to the film's original score
Music for the Motion Picture Into the Wild additionally received two Grammy nominations – Best Song Written for a Motion Picture, Television or Other Visual Media Grammy nomination for 'Guaranteed' as well as a Best Rock Vocal Performance, Solo for 'Rise.'
On the heels of Into The Wild's release, Vedder embarked on a sold out, multiple-leg solo tour across North America. Following the release of 'Ukulele Songs', he again hit the road in 2011, with sold out shows in Australia and the United States.