JEFF LYNNE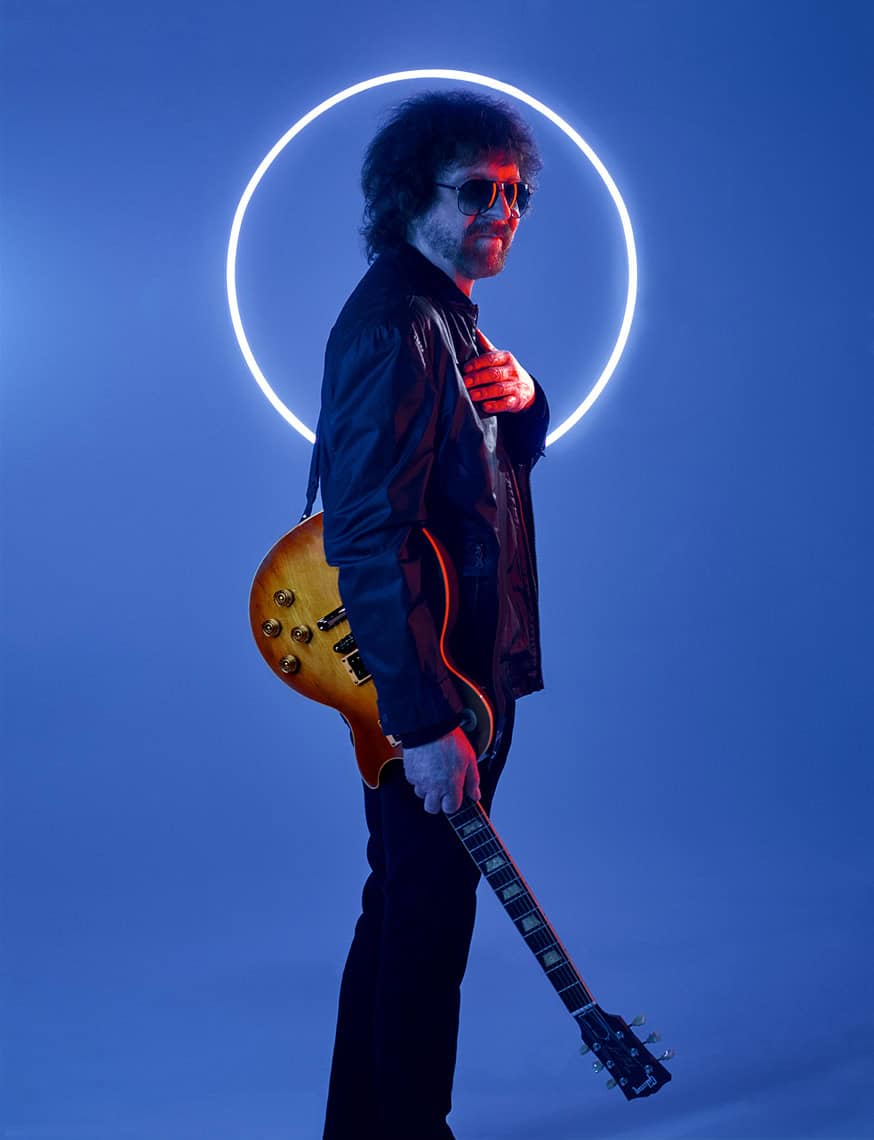 Jeff Lynne has been making waves all over the world for most of his very musical life.
As the creative force of Electric Light Orchestra and as a singularly accomplished producer, singer-songwriter and a key collaborator with some of the most illustrious names in rock history, Lynne has been making global music history for most of his life.
Now here in 2012, Lynne returns in a big way to make waves all over again with Long Wave. Lynne's extraordinarily vital and impressive new solo album, Long Wave, finds this remarkable artist and record maker recording some of the great popular songs that first inspired his lifelong and enduring love affair with popular music. Evoking an era back when old standards were just giving way to rock & roll, Long Wave powerfully celebrates the music of a time when Lynne's lifelong passion for music began.
"I call this new album Long Wave because all of the songs I sing on it are the ones heard on long wave radio when I was a kid growing up in Birmingham, England," Lynne explains. "These songs take me back to that feeling of freedom in those days and summon up the feeling of first hearing those powerful waves of music coming in on my old crystal set. My dad also had the radio on all the time, so some of these songs have been stuck in my head for 50 years. You can only imagine how great it felt to finally get them out of my head after all these years."
Take one listen to Long Wave, and you will soon find that you can't get the songs here out of your head. These are Lynne's deeply felt and musically brilliant one-man band takes on a wide range of standards from  "Bewitched, Bothered And Bewildered" written by Richard Rogers and Lorenz Hart to "Smile" co-written by Charlie Chaplin and made famous by Nat King Cole to "So Sad" made famous by The Everly Brothers and Chuck Berry's driving "Let It Rock."
Time after time on Long Wave, Lynne makes these classic songs his own, including the first single from the album, "Mercy Mercy," a soulful early Sixties gem from Don Covay and The Goodtimers that Lynne first performed in his earliest days as a working musician in the clubs of his hometown and has now made a fantastic showcase as he plays every part perfectly.
The songs that Jeff Lynne revisits and reboots on Long Wave are some of the great songs that inspired him to go on to write his modern standards—a rather long list that includes "Mr. Blue Sky," "Showdown,"  "Livin' Thing," "Do Ya," "Sweet Talkin' Woman" and "Telephone Line," to name just a few.
"These songs were the beginning of my dream. Then the Beatles hit me and I was gone forever. It's a dream that I wished so hard, so hard for that eventually it came true. Amazingly, what I wanted back then—I actually got. Everything I wanted. For instance, I wanted to work with the Beatles desperately when I was a guy in a group in Birmingham just playing. What was the chance of that ever happening? It was no chance. And yet it happened."
Long Wave is the latest chapter in one of popular music's greatest stories ever told. And it comes as Lynne is also bringing his fans an extraordinary series of releases—including a previously unreleased Electric Light Orchestra live album, numerous expanded reissues and Mr. Blue Sky: The Very Best of Electric Light Orchestra, an altogether stunning re-recording of his past ELO smashes that finds Lynne actually beating his own original versions here in the present tense. "I'm trying to use everything I know to finally get things right," says Lynne. In other words, Jeff Lynne is using all that he's learned in a lifetime as a record maker to bring fans some of the greatest music of his career.
For many, Jeff Lynne is and always will be thought of first and foremost as the man who turned on the Electric Light Orchestra.  Today, 40 years after Lynne's Orchestra first shed a little light, the luminous and heartfelt music of ELO continues to burn as brightly as ever.
The vivid, artfully crafted songs that Jeff Lynne wrote and sang—and the exquisite recordings that he so expertly arranged and produced for Electric Light Orchestra—have endured beautifully and are perhaps even more beloved today than they were back in the Seventies and Eighties.
By any standard whatsoever, Electric Light Orchestra is one of the most remarkable success stories in rock history. Consider just the facts: Electric Light Orchestra has sold over 50 million records worldwide, and continues to be a remarkably popular catalog. Between 1972 and 1986, Lynne wrote and produced 26 Top Forty hits in the United Kingdom, and 20 Top Forty hits in the United States, including 20 Top Twenty smashes in the UK and 15 Top Twenty smashes in the U.S. Even more remarkably, the ELO catalog continues to have tremendous impact here in the Twenty-First Century, as demonstrated powerfully when the compilation All Over The World: The Very Best of Electric Light Orchestra was released in 2005 and became a Top Ten album hit in a number of international markets including England.
Beyond all the best-known hit songs, fans everywhere continue to explore the extraordinary series of albums that combined Lynne's remarkably ambitious and accomplished craftsmanship from the group's 1971 debut—accidentally titled No Answer due to a miscommunication on a telephone about what the album would be called—through 1973's ELO II and On The Third Day, 1974's breakthrough Eldorado, 1975's Face The Music, 1976's A New World Record, 1977's double-record epic Out Of The Blue, 1979's Discovery, 1981's Time, 1983's Secret Messages, 1986's Balance of Power, as well as 2001's Zoom, the first new Electric Light Orchestra studio album in 15 years that found Lynne reunited with longtime band mate and collaborator Richard Tandy, as well as guests including George Harrison and Ringo Starr.
What is it about the music of Electric Light Orchestra that endures so powerfully for millions of music lovers around the world? "It's a great question—and I wish I could answer it," Lynne says with a laugh.  "It's nice to have songs in your catalog that stand the test of time".
As global superstar visionaries go, Jeff Lynne is an unusually humble man; his story is the true tale of a sweet lad from Birmingham with a lifelong gift for making music. Not that Lynne has much to be humble about—even outside of the success of Electric Light Orchestra, Lynne has led a remarkable career that has found him taking the lessons learned leading Electric Light Orchestra and using them to help produce and collaborate with many of the greatest musical artists of all time, including a number of Lynne's all-time heroes including Roy Orbison, Del Shannon, George Harrison, Paul McCartney, Ringo Starr,  and remarkably, even the Beatles themselves, as well as contemporaries like Tom Petty and Joe Walsh, whose new album Analog Man Lynne recently helped produce . Together with Harrison, Orbison, Petty and Bob Dylan, Lynne was, of course, a member of the Grammy award-winning Traveling Wilburys—a super group like no other.
Even with his remarkable and singular track record as a rock star, Lynne has never sought the spotlight, "I don't think of myself as a rock star," Lynne says with a laugh. "I'm more of a singer, songwriter, guitarist, producer. It's more about what I do than any sort of persona." Not that Lynne doesn't enjoy the passion that fans have brought and continue to bring to ELO's music. "I love recognition for the work, and for writing all those songs. I find it a pleasure having done so, especially now when they keep getting played more than ever. Working on the Flashback box set that came out in 2000, reminded me how much I like the music. And ever since then, it seems like ELO songs are even more in demand, especially in my house."
For Lynne, such major and ongoing success is a remarkable side effect of a lifetime of working hard in the place that has always been his musical home—the recording studio. "To me, the recording studio really became my Eldorado," Lynne explains today. "Just to go in the studio, to be there for a few weeks at a time and use all the latest equipment, try all the amazing instruments and do harmonies—that was a total pleasure for me. In the original run with ELO, I believe that having the studio time—and also having constant deadlines at the end of it, no time to second guess—was possibly the best thing that could happen for me. Mind you, at the time, I didn't think so, probably because it got pretty hectic some of the time. My life back then was to write and produce an album, go out and tour for two or three months to support that album, then go back and make another album. Then go out on tour again. It was a non-stop cycle, and could be exhausting, but I'm proud of the music that came out of it."
For Lynne, "It all comes down to what you truly love doing, and what I love doing is overdubbing and making new sounds out of things that are sometimes quite ordinary on their own, but when you put them together, they make something new—or something that sounds new. Just discovering things like that musically is a pleasure. I love creating, more than re-creating. That's why I never really loved playing live as much. There were lots of great nights that I enjoyed, but for me it wasn't as satisfying as making the next song."
With Electric Light Orchestra, Jeff Lynne brought the world a different sound that still sounds modern, relevant and great. Asked what he's most proud of about the legacy of the Electric Light Orchestra, Lynne pauses for a moment, and then says, "I think that I stuck with it all those years and didn't waver. I just kept at it, and I'm glad I did because the songs are still out there."
The songs of Jeff Lynne have become part of our lives—in movies, in ads and most of all in our hearts—because of all of the love and care that he has always put into his music. And now with Long Wave, Jeff Lynne has created his own love letter to the songs that first showed him the power of music. "I've been in love with music since I was probably just five years old.  I was mad for music then—and I still am today."