MADONNA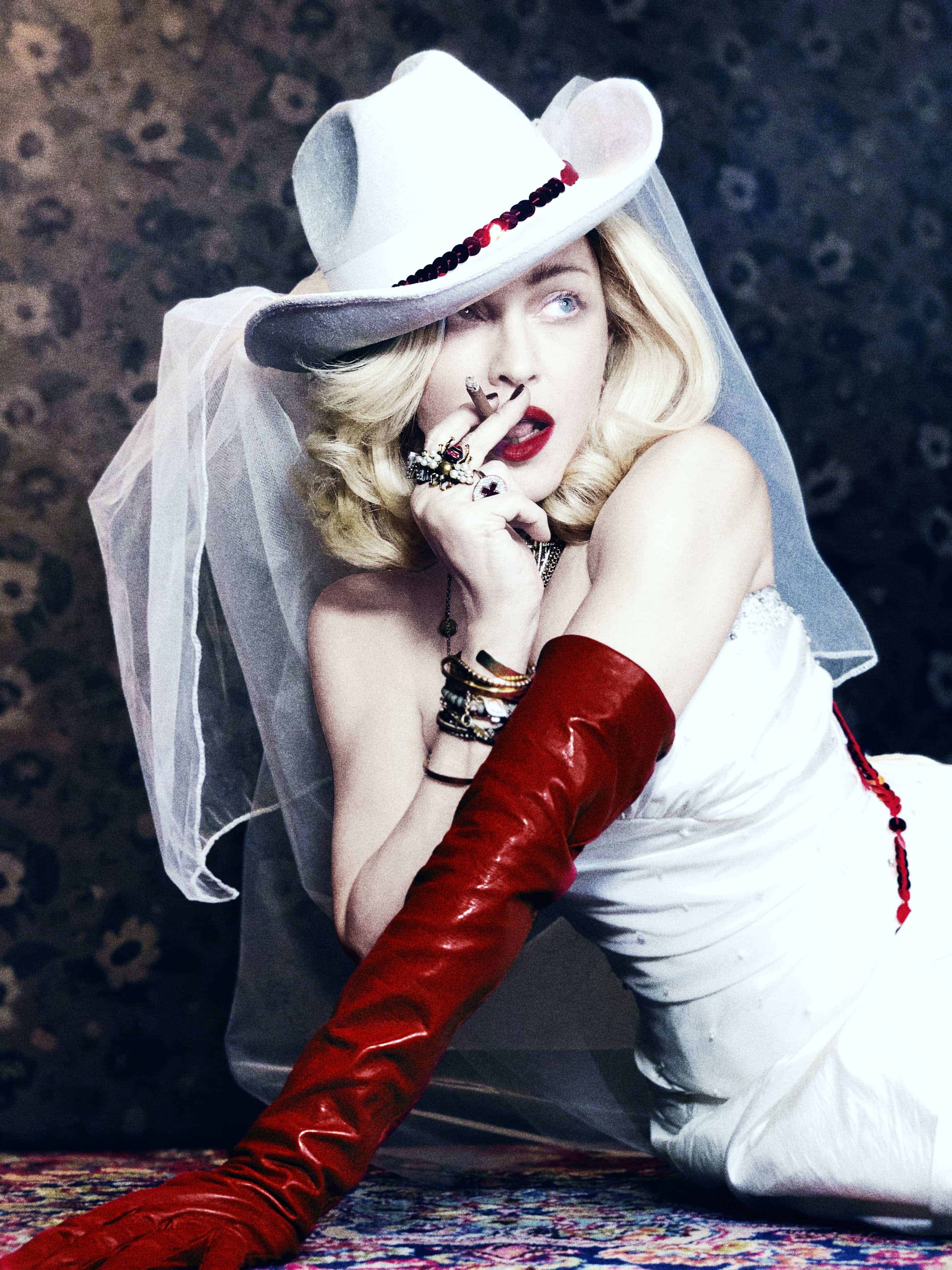 When Madonna was 19 and newly arrived in New York City from Michigan, she took dance classes at the Martha Graham School, founded by its namesake, the legendary modern dancer and choreographer. The students had to wear uniforms. Madonna, who never met a rule she didn't want to break, began showing up to class with holes in her stockings and her hair in cornrows. "I wanted to stand out as a renegade," she says. Madonna was called into the office and warned that if she didn't follow the dress code she'd be asked to leave. Then the door opened, and Graham herself walked in.
"She said, 'We have rules and we have regulations,'" Madonna recalls of her encounter with Graham. "And I said, 'but if you had followed the rules you wouldn't be where you are today. You changed the way people looked at classical dance. You took off the tutus. You empowered women.' And she said, 'You're right. But if everyone thinks the way you do, there won't be any order here.' Then she said, 'I'm going to give you a new name. I'm going to start calling you Madame X. Every day, you come to school, I don't recognize you. Every day, you change your identity. You're a mystery to me.' And I answered, 'Good.Thank you.'"
Madonna considered this episode when it came time to name her 14th studio album. "I decided to call it 'Madame X,'" she says. "Madame X is a dancer, a professor, a head of state, a housekeeper, an equestrian, a prisoner, a student, a mother, a child, a teacher, a nun, a singer, a saint, a whore, and a spy in the house of love." It's a fitting title for an album by a notorious shape-shifter who has consistently explored questions of identity in her work, whether they be personal, sexual, or cultural. And if the results challenge people, all the better. She has always been interested not only in making people dance, but also making them think.
Madonna nods toward her roots as a young singer and dancer on the album's first song, the sultry, reggaeton-flavored "Medellin" (featuring Colombian superstar Maluma), when she sings: "I took a pill and had a dream…allowed myself to be naive , to be someone I've never been." "What I mean by 'naive' is not caring what people think," Madonna says.
"When I started my career as an artist, I was naive. And the good thing about being naive is that you don't think about judgment, or what people are going to say about what you're doing. You are free and pure in your expression. I wanted to go back to that time in my life when my music came without my listening to the noise of others' recommendations or suggestions. That was when I was given the name Madame X. So, the story has come full-circle. Madame X is back to her roots. She doesn't care what people think." This is quintessential Madonna, who, while rejecting expectations placed on her, forces everyone else to consider their own limiting beliefs and biases in the process.
Madame X is also a title that illuminates Madonna's history as a freedom fighter who has been a voice for the disenfranchised, whether she's fighting for LGBTQ rights, speaking out for gender equality, or supporting orphans and vulnerable children through her non-profit organization Raising Malawi. She has always sought to bring light to dark places in her music and Madame X is no different. It tackles big themes — but it feels celebratory and global in scope thanks to its sonic palette, which is largely inspired by the Fado and Morna music Madonna heard while living in Lisbon, Portugal, for the past several years while her son trained to be a professional soccer player.
A longtime fan of Fado (a form of Portuguese singing done in social environments) and Morna (widely considered the national music of Cape Verde), Madonna was thrilled to be invited by local musicians to living-room sessions, where singers and instrumentalists gather in someone's home to drink wine and play music. "What struck me most was this organic, authentic feeling of people being there because they just love music," she recalls. "Money had nothing to do with it. Fame had nothing to do with it. Instagram followers had nothing to do with it. It was really about passion, and music, and art."
Madonna began filming the proceedings and sending clips to French producer Mirwais, with whom she collaborated on several albums, including her global No. 1 Music and the Grammy-winning Confessions on a Dance Floor. "I said to him, 'I know this is crazy, but tell me if it inspires you. Let's chop up the guitar sounds, and synch them to modern- sounding drums.' Within a week, he had sent me back music. It was amazing and I felt super inspired." (Other co-producers on Madame X include Diplo, Mike Dean, Jason Evigan, Jeff Bhasker, and Billboard.) "There's something about Fado and Morna that communicates a kind of melancholy and sadness," she says. "It was the perfect palette for me to paint from, so to speak. And Lisbon is a melting pot of culture, from Angola to Spain to Brazil to France. I had the honor of meeting musicians from all of these places, to be inspired by their music, and to let it influence me. That's how these songs came to be."
In Lisbon, Madonna formed a bond with Dino d'Santiago, a Portuguese singer of Cape Verdean descent. He began to introduce her to other musicians, including the all-female Orquestra Batukadeiras, who are featured on "Batuka," one of Madonna's favorite songs on Madame X. "We went to a tiny club in the middle of nowhere and a circle of women were sitting in chairs playing leather drums," she says. "The music started and they all took turns singing solos in Creole and dancing. It was so inspiring that I asked Dino if it'd be possible to collaborate with them. They agreed and we ended up in the studio recording this call-and-response song, live. It was a religious experience, just a total celebration of life." Madonna points out that Portugal was the birthplace of the slave trade with Africa, and Cape Verde, an archipelago of islands off the coast of Northwest Africa, was where the slave ships docked. "These women come from Cape Verde, and they explained their history to me. Once again I was a student, learning and being inspired.
As she has done throughout her career, Madonna calls out injustice and suffering inflicted by those in authority on songs like "I Rise." Madonna says of the song, which begins with a sample of a fiery speech made by Marjory Stoneman Douglas High School school-shooting survivor Emma González, "I wrote 'I Rise' as a way of giving a voice to all marginalized people who feel they don't have the opportunity to speak their mind. This year is the 50th anniversary of Pride and I hope this song encourages all individuals to be who they are, to speak their minds and to love themselves."
Other tracks on Madame X include the "Future," featuring Quavo from Migos and produced with Diplo and "Crave" featuring Swae Lee, a sultry pop-gem about longing for another person that is just out of reach, co-produced with Mike Dean and Billboard.
On the song "Dark Ballet," which she compares to "the kind of dance we're all dancing in the world right now, this dark ballet." The song was inspired by the story of Joan of Arc. "She fought the English and she won, still the French were not happy," Madonna says. "Still they judged her. They said she was a man, they said she was a lesbian, they said she was a witch, and, in the end, they burned her at the stake, and she feared nothing. I admire that."
It's not hard to see why Madonna identifies with the French martyr's fearlessness. Madonna has shown herself time and again to be an indefatigable risk-taker, with a willingness to court controversy, and to use her music as a weapon to expose hypocrisy wherever it exists. But she also uses music to bring people together, and that is the spirit that permeates Madame X. "She brings light to dark places."
"When we hear music, even if we don't understand the words, we can still connect to the soul, to the feeling, to the emotion that the artist put into that music," she says.
"We can still relate to it. We will always, in a primal way, be connected through music. And no matter what horrible things we do to one another as human beings, the one thing that lifts us up, that gives us hope, is music."