MARGO PRICE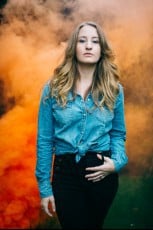 Margo Price Debut Album
'Midwest Farmer's Daughter' Out April 15th
"an excellent debut. Her voice is the record's real star: controlled, infectious, and rich with enviable natural twang." Uncut
One of the finest new voices to come out of the U.S.A., Margo Price releases her debut album 'Midwest Farmer's Daughter', April 15th on Jack White's Third Man Records.
The first country signing to Third Man, Margo Price's debut album, produced by Alex Munoz, pulls no punches as she sings about very real hardships and heartaches – the loss of her family's farm, the death of her child, drink and brushes with the law on this deeply moving collection of ten original tracks. Refreshingly, there is no self pity or over emoting because her remarkable voice has that alluring mix of vulnerability and resilience.
Growing up in Aledo, Illinois (pop. 3,612), Price was surrounded by music – everything from Tom Petty to the Statler Brothers. After moving to Nashville she began the usual apprenticeship of open mic nights, networking and self-releasing albums, but tragedy struck as she lost her first born to a heart ailment.
After turning her back on a disinterested Nashville, Margo went to Memphis and visited the legendary Sun Studio as a tourist. Her curiosity piqued by a "Make Your Own Demo at Sun" sign, Price met the house engineer, Matt Ross-Span. They quickly formed a musical bond and Price and her band worked the night shift, from 7pm-2am (after the museum had closed), cutting tracks live to analog tape.
To finance the sessions for 'Midwest Farmer's Daughter', Margo and her bassist husband Jeremy Ivey skipped the usual crowd-funding route, instead selling their car, some instruments and even pawning her wedding ring. With the album done, Price says she shopped it to "literally every label in Nashville." Except the one where it ended up.
"I think about an artist like Bobbie Gentry, who was able to mix country with soul," Price says. "But I really never set out to make a country soul record. It's just that I like Etta James, I like Hank Williams and sometimes those things come together and make nice little babies."
Album highlights include opener 'Hands Of Time', the honky tonk comeuppance of 'About To Find Out', the rockabilly-charged 'This Town Gets Around', the hard-hitting blues grooves of 'Four Years of Chances' and 'Tennessee Song' and the punch drunk 'Hurtin' (On The Bottle)' co-written with Caitlin Rose.
Margo Price is set to take SxSW storm later this month before coming to the UK this spring.
"I hope that the record helps people get through hard times or depression," Margo says. "That's ultimately what music did for me in my childhood and especially in my early adult years. It's about being able to connect personally with a song, and hopefully, it makes you feel not so lonely."
With 'Midwest Farmer's Daughter', Margo Price is about to make an awful lot of new friends.