RAY DAVIES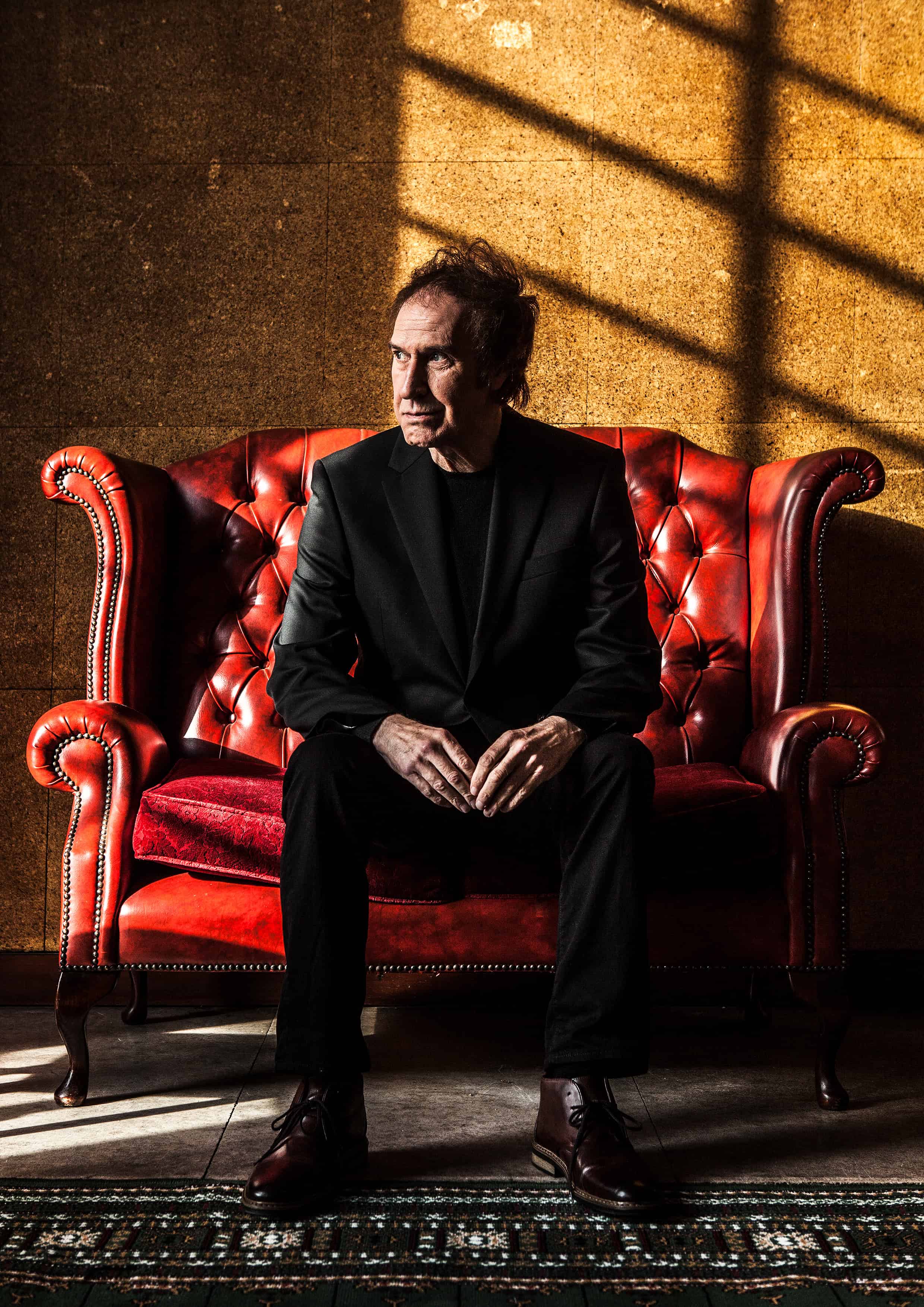 Davies is a songwriter to his marrow. This means looking forward to writing new music, such as completion of a choral work, Flatlands, performed with the Britten Symphonia and "inspired by English mythology," says the creator of conceptual classics The Village Green Preservation Society and Arthur.
And it means pushing ahead by digging backwards. When you've written as many songs ­ as many limber, vivid, inspired, timeless songs ­ as Davies, your back catalogue offers rich pickings, and artistic pastures anew.
So to See My Friends: a collection of collaborations with a formidable bunch of  artists on tracks drawn from Davies' 46 years as a songwriter –­ with Bruce Springsteen on Better Things, with Metallica on You Really Got Me, with Mumford &  Sons on Days/This Time Tomorrow, with Paloma Faith on Lola, and ten other equally inspired partnerships.
"This project came about almost by accident," says Davies. "I was actually writing new material with one artist in particular. Because I've never really recorded with other people, or written for other people that much. So initially it started as a collaboration project: I was gonna write songs for people."
Then, in summer 2009, he recorded with Big Star singer Alex Chilton a version of Till The End Of The Day (from 1965's The Kink Kontroversy). Davies had gotten to know Chilton, who died in March this year, while the Englishman was living in New Orleans –­ Chilton was one of the people who befriended Davies after he was shot in the leg during a street robbery in 2004. But the project really gathered momentum in New York at the end of last year.
"I did a big concert there, the Rock And Roll Hall Of Fame 25th Anniversary show. Met Bruce Springsteen there. He said he was really happy to get involved. We did Better Things ­ it was a hit for The Kinks in America, it wasn't in England. And I performed You Really Got Me and All Day And All Of The Night with Metallica. And it came from there…"
Davies had no qualms about rebooting classic songs. His musical past is no foreign country, his catalogue no sacred cow. He was eager to open up ­ himself, and his songs ­ to other people's ideas and interpretations. And he was happy to go where the music took him, in every sense: Oslo via Denmark, Germany and Belgium to record with Metallica, New York to record with Jon Bon Jovi, New Jersey for Bruce Springsteen, Chicago for Billy Corgan from the Smashing Pumpkins and his own north London base for much of the rest. "This record is well-travelled already," he chuckles.
And there was no standing on ceremony: Jackson Browne popped in with one battered Gibson acoustic in the middle of a European tour; Paloma Faith brought her whole band; Frank Black was in and out in one afternoon.
"I'm a collaborative sort of person. I've worked in musicals, and theatre. I find that a lot of people who do what I do are frightened of collaborating. They get scared. They don't want to be exposed. They want the safety net of their own talent and their own organisation around them. But the fear of failure doesn't really enter my head."
A dialogue began between Davies and artists in the UK and the US. Some were fans of his. Others were suggested to him. Some he'd had long relationships with. He'd met Springsteen a few times over the years but they'd never worked together.
"I wanted to act as a kind of catalyst to get these artists to perform the song in a certain way, and for me to fit in with the way they sing it. But Better Things [from 1981's Give The People What They Want] with Bruce was a bit different because we both sang it the way we normally sing. I'm particularly pleased with the new outro which I thought of. I hadn't run it past Bruce and I did it when we were playing the back track, I extended the ending, so we could do this crossover, swing thing at the end. And he picked up on it straight away and did a brilliant job. I'm very pleased with that.
"Certainly with some tracks I had to appreciate the style of the other artists, otherwise it would have sounded unbalanced. And I wanted the album to work as an entire listening experience. So each track had a good life of its own."
Thus alt.country singer Lucinda Williams, backed by The 88, gives "a new breath, a new energy" to A Long Way From Home (from 1970's Lola Vs Powerman And The Moneygoround Part One), while Scottish singer-songwriter Amy Macdonald brings 1966 single Dead End Street "right up to the modern social context… Amy had never even sung, as far as I know, in any studio other than where she's worked with her manager." So when Davies invited her into his long-standing recording studio and HQ, Konk in north London, "this was real departure for her… I sat down with her, she couldn't sing it in the same key as me so I did key changes, put a guide track down, and we sang to that. So that had a different set of problems, but it ended up really successful. And I wrote a new linking section, rather than the traditional intro that was on The Kinks' recording of Dead End Street. I wrote a new part which is more like a swing song."
This, he adds, typifies the freewheeling approach he took with each artist and each song: "all preconceptions I had went out the window. I just did the arrangement to fit the situation we were in at that time. That's another thing: it's not just covering the songs that's important to me. It's to bring a performance out of the artist," he says, pointing to Gary Lightbody's version of Tired Of Waiting For You (1965), for which Davies changed the key in the bridge to suit the the Snow Patrol frontman's "light, floating voice… Because I was acting as producer as well. And I didn't want people to just come to the studio and go through the motions. So each artist had their own interpretation."
This also meant Davies occasionally deferring to the artist's choices too. He'd been initially impressed by The 88's selection of songs from his catalogue on their "audition" CD ­ "they picked a few tunes that not a lot of people would have picked to play, songs that I haven't played for a long time." On See My Friends they perform David Watts (from 1967's Something Else, and previously memorably covered by The Jam) and act as occasional back-up band.
Pixies man Frank Black, meanwhile, "picked the key" on This Is Where I Belong (a b-side from the time of 1966's Face To Face), "and I let him dictate the style in which it was done. Again, it was about coming into it with an open mind. Let the reins go a bit…"
As much is evident in the beautiful new version of Waterloo Sunset (also from Something Else), recorded with Jackson Browne ­ "the most unexpected casting," Davies admits for the quintessential London song. But Davies isn't precious. Everything was done in the service of a new ideas, new sounds, new experiences. "I've added a new vocal arrangement around what Jackson did. And the bridge ­ "every day I look at the world from my window" –­ is done in a completely unique way, the two of us singing. Almost like a South America way, a Mexican way."
It's been a thrilling, globe-trotting, kaleidoscopic, often road-less-travelled journey. The title track, Ray Davies' landmark 1965 melding of East and West ­ Pete Townsend reportedly said it was more innovative than The Beatles' Norwegian Wood ­ was written partly in Bombay, partly in Muswell Hill, and is here reimagined with Austin band Spoon, whom Davies met when both performed at this year's SXSW in the Texan city.
"I think the artists gave everything," he says appreciatively. "The good ones are the undiscovered ones that came from nowhere, like Lucinda's tune, that not everybody knows is a Kinks song. And now it's been turned into something through doing it as a duet. It's partly hers now. It's hopefully part of her repertoire.
"That's the thing with this record: I'd like to feel that all the songs could have been part of the artist's repertoire. And certainly not force-fed."
And what did the man himself get from the experience of seeing his friends?
"It's made me come out the other end wanting to write new songs," he smiles. "Because that's what I do. Having said that, I love this process, trying other songs with other people. It's a process of discovery."