SIMPLY RED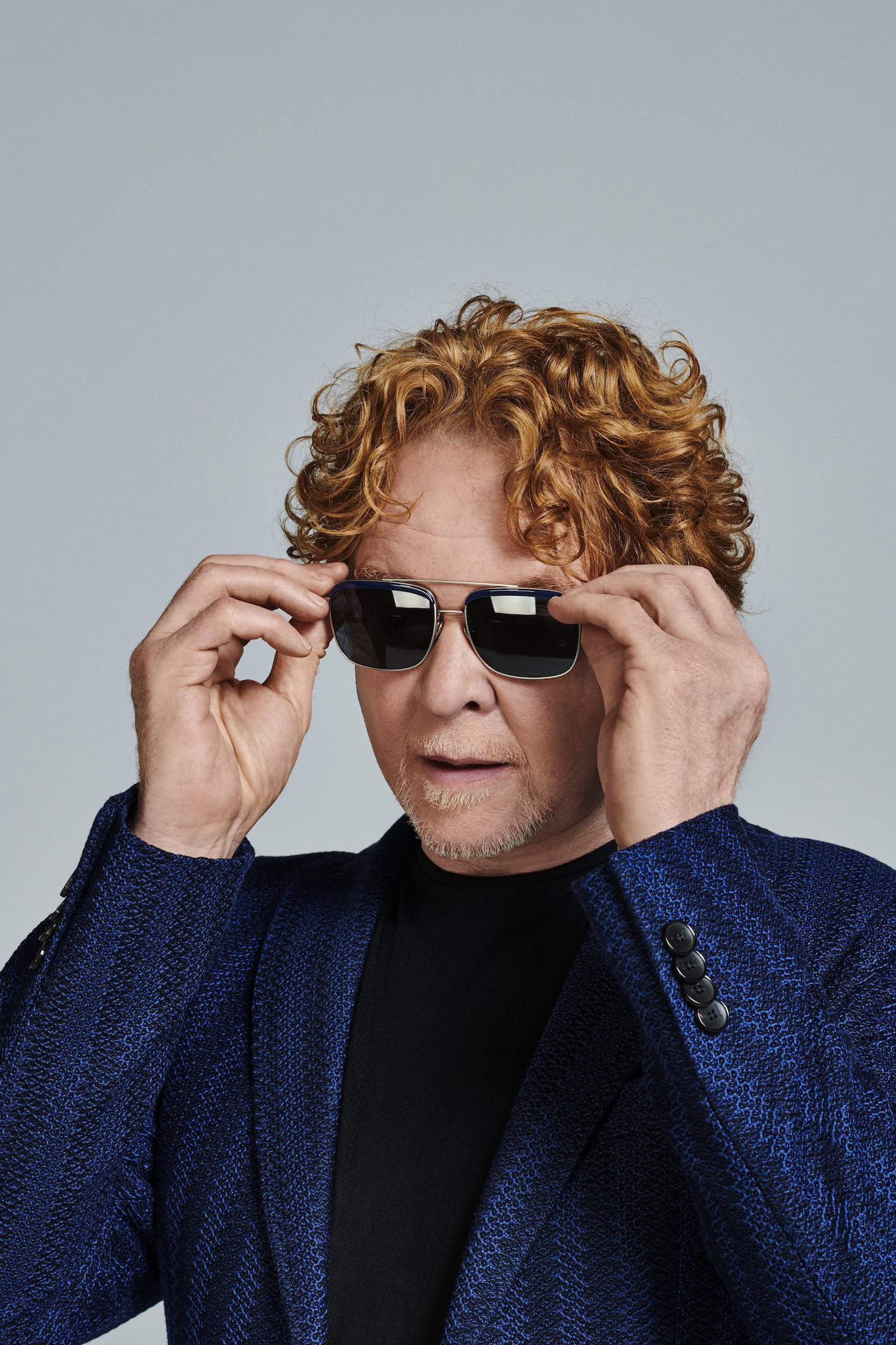 He's got blue eyes and a soulful voice.
Blue Eyed Soul by Simply Red is the 12th album from Hucknall's sleek multi-million selling groove machine. And it is the rawest, funkiest, dirtiest, brassiest and most purely 100 per cent soulful concoction of their stellar career.
From the dramatic burst of horns and percussion that introduces the swaggering funk of Thinking Of You to the dreamy strings and tender vocals of sensual ballad Tonight, you know that this is the good stuff. The brashly stylised cover image could be a poster for a superfly seventies Harlem cop flick relocated to the mean streets of Manchester. Musical reference points draw on classic funk and soul: Wilson Pickett, Dyke and the Blazers, James Brown, and the roaring horns of Tower of Power. "I didn't have to go back and dig into record crates for inspiration. I've been listening to soul music since I was a kid, it's been in my head and heart for 50 years. I'm doing what comes naturally."
The album was recorded at Mark Knopfler's British Grove studios in London, where the Rolling Stones recently made their acclaimed Blue & Lonesome. "It's a wonderful room to record in the old style, where you count off the track and go for it. I was in a booth, the band were all set up, 1-2-3-4 and off we go. All pretty much live takes, with overdubs here and there."
After 40 years of making records (with punk band The Frantic Elevators, solo and various line ups of Simply Red) Hucknall wanted to create something tailored to the core strength of his fantastic band. "I asked myself, what would these guys really like to play, night after night? I want them to enjoy playing, for crowds to get up and move around, and everybody to put their heart into it. It's all about capturing the groove."

And Hucknall was thinking about his remarkable voice. "I wanted to push my voice a little harder, challenge it a little bit, give myself something to really sing to." Hucknall has long since established himself as one of the great vocalists of contemporary music, with a raw honey and whiskey tone, and a sinuous flow that can shift from the tender sensuality to full on roaring power in a heartbeat. At 59, it is all still there. "It's deepened a little bit but I've kept the high end, so I can still hit those notes. Singing is pure pleasure to me."
In recent years, Hucknall could regularly be seen making guest appearances singing with Van Morrison, Quincy Jones, Bill Wyman's Blues Band and Charlie Watts Big Band
In the past, he has sung with late blues legend B.B. King and between 2009 and 2011 replaced Rod Stewart as vocalist in a reunited line up of his childhood heroes The Faces. "Singing is my work but I love it so much, I don't even think of it as a job. It's a way of life. Through good times and bad, it is a deep, fundamental love of music that has kept me going."
Simply Red have over a billion hits on You Tube, have sold over 60 million albums worldwide, 5 going to number one in the UK. Their 1991 classic Stars was the best-selling album for two years running in Britain and Europe. They have had two US Billboard chart toppers with classic singles Holding Back The Years and If You Don't Know Me By Now. Every Simply Red studio album has been a UK top ten (with previous release Big Love reaching number 4 in 2015). Hucknall has been the songwriter and bandleader since the beginning in 1985, aided since 1986 by long-serving saxophonist Ian Kirkham. The current line-up of Simply Red has remained consistent since 2003. "I wouldn't like to say I am Simply Red but obviously, as the singer and songwriter, there couldn't be a band without me. I love the romantic idea of groups that stick together but I am also drawn to looser jazz, reggae and R'n'B band structures, where different musicians bring different flavours." He is at pains to stress that this is more than just a brand. "I've done solo albums but I have a great respect for the musicians I work with, and we play as a band. I don't want any ambiguity about it. Simply Red encapsulates what we do together."
"In many ways, music is a young man's sport. All I can do is make music that means something to me. I'm happy with this album. It's feeling pretty good. And I'm looking forward to playing it live because it is real.
Blue Eyed Soul is the sound of Simply Red firing on all cylinders. "At this stage of my career, I could do one of these dark reflective albums looking back on my life and all that kind of stuff that people tend to do at a certain age. But I thought sod that. I wanted to make something punchy. I want to have a good time. I'm not saying its my last album, because I've got no thoughts of stopping. But when I go out, I want to go out with a bang."